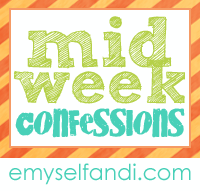 Good thing it's Wednesday (at least for another hour anyway)...because I've got some confessin' to do...
1. This is the first time I have turned on my computer in...oh...close to 40 hours. I've been sick (sihhh-ick y'all) and the computer has been making it worse. I won't go into details...but I'm pretty sure I experienced my first (albeit minor...but still) migraine last week. I'm still trying to feel better.
2. Nothing like the aforementioned ick to kick my bootie into gear on the diet resolutions. I'm pretty sure that today was the best eating day (and by best, I mean healthiest) I've ever had. I always manage to eat something not so good...which I did today...but it was not that bad. Yay me!
3. I lost .4 at my weigh in Tuesday night. Kind of pathetic. BUT..I'm down 5.8 and when I got on the scale this morning...I was down another 2 lbs. That is promising....hopefully it will just keep going down!
4. Christmas tree (AND decorations)...still up. Do not care (see #1).
5. I'm watching my dvd (that I purchased with my own money..haha) of Real Housewives of New Jersey (season 1). Judge away.
6. Email inbox? Out of control. I was going to attempt and manage it today via my phone...and I decided I wasn't feeling well enough to try that. I am hoping to do some serious catching up tomorrow...assuming I get a good night of sleep.
7. Speaking of sleep...pretty much all I did today.
8. The hubs stayed home today to keep an eye on me (had a bit of a scare yesterday...will discuss more later)...and I sleep SO well when he is here during the day.
9. We did watch Unstoppable today. I nearly got a headache from tensing up the entire movie. Had to keep telling myself that it would end okay...because it's a movie and that's what movies do. I just couldn't chill out! Ha. Do y'all do that in action movies?
10. I love me some Denzel, don't y'all?