I don't know what was up with me, but I kept thinking yesterday was Friday. I was all excited about a date night with the hubs, and then I would remember it was just Thursday. Sigh. Not that we didn't go out to eat last night after swimming...and not that we have some elaborate date planned tonight. Just sort of a let down. Oh well...one more day to get things done...before I absolutely do nothing over the weekend.
Today I'm joining in with the Bargain Blonde with my Friday Favorites.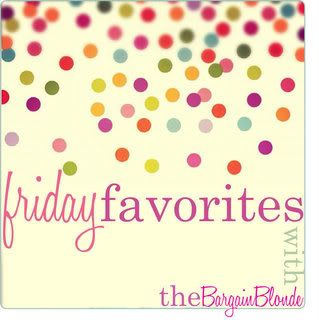 Obviously...first up...it just being Friday is my favorite!
Second...you may have seen this on my sidebar already, but if not, I am a new
Scentsy Independent Consultant
!! I am BEYOND excited about this as I LOVE their stuff. I've always loved candles...but these are amazing. My favorite right now is the 'Welcome Home'...it smells sooo good!
They are having their convention next week, and are announcing a new brand for the Scentsy Family. There is a ton of excitement among the consultants...and lots of speculation as to what it may be. I have a couple of guesses...but absolutely no clue if they are even close. I can't wait to find out!!
Third...I'm excited about the new season of Big Brother. It's my favorite summer guilty pleasure.
Every year me, C and my Mom get so wrapped up in this show. It always takes me a few episodes to decide who I like/don't like. This season's first twist is actually something that C had mentioned a few years back...so that was kind of fun. Maybe we should produce our own reality show.
Next, I am loving that the scale FINALLY went down this morning...that is one of my favorite things to see in the morning (or anytime). I have just been struggling like crazy and I was beginning to worry if something was wrong with. Kidding, of course something was wrong...it's called Slurpees and Taco Casa. Praying I can stay on track and actually see a loss on the scale on Tuesday. It's been a hard couple of months...but I'm not giving up!
My favorite HGTV show is ending this weekend...for the season anyway. Have y'all watched
Junk Gypsies
?
It's been fun watching...especially since I've been a JG fan forever!
And, finally...I was sending pictures to the printer for my Grandmother (out of town). I came across this one.
C and I rode with my Mom out to the lake last weekend to visit my Grandparents and Aunt/Uncle. C rode in the back with Dalton...and I reached back to hold C's hand for a bit (I know, mushy)...and Dalton reached over to grab our hands too. AWWWW. How sweet is that? I had to get my camera out and take a picture..all with my other hand. Had to document it!
Have a great Friday y'all!